Empower Minister Wayne Pelly took his sixth trip to Africa with Empower International Ministries this fall. An opportunity for additional ministry led him to extend his trip from the usual two weeks to three. This was something of a stretch, but the results confirmed the value of this decision. Here is Wayne's report, edited for space:
New Man, New Woman, New Life Seminars
The heart of our ministry is the three-day seminar that addresses gender-related issues in traditional cultures, "New Man, New Woman, New Life." I joined my African colleagues in conducting three of these seminars; one during each week while I was in Africa.
For my first seminar, I served with Frank Tweheyo, Empower's Africa Program Director (and a pastor from western Uganda, who also just completed a Masters in Global Leadership at Fuller Seminary) in conducting a seminar at the Kampala Evangelical School of Theology (KEST). This seminar had roughly 50 participants: ranging from students and faculty at KEST, to pastors and civic leaders.
One of the participants – also a KEST alumna – was the wife of a former Prime Minister of Uganda.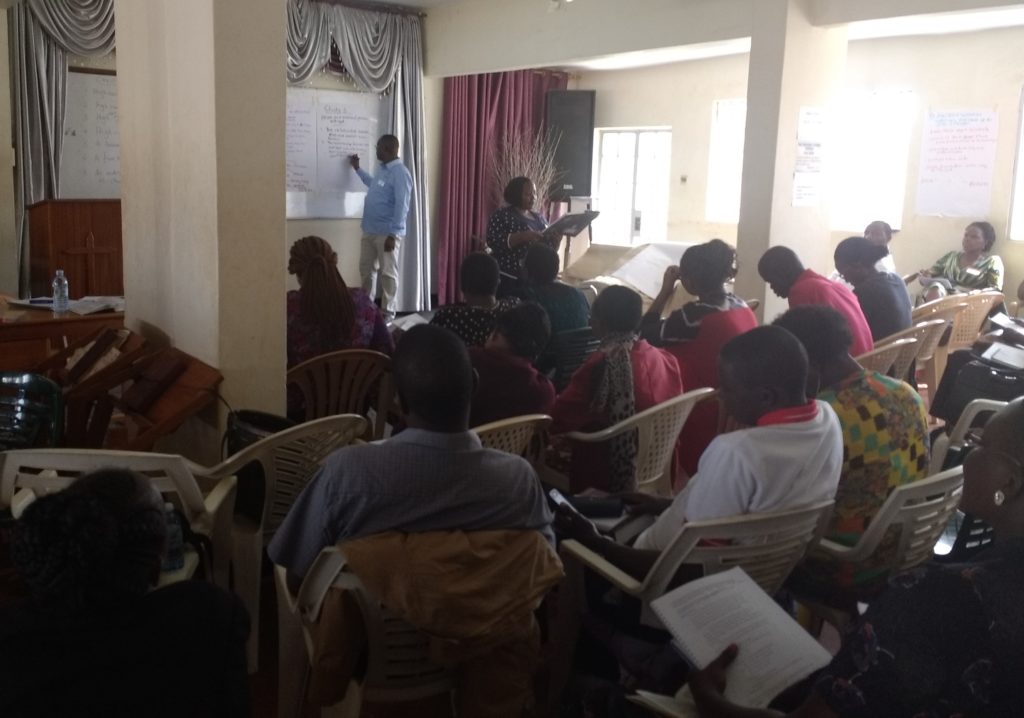 This seminar was arranged by Emmanuel (Emma) Akatunkunda, the academic dean of the college who also arranged for me to preach in the morning service and teach a class that Sunday afternoon at the church where he is a co-pastor.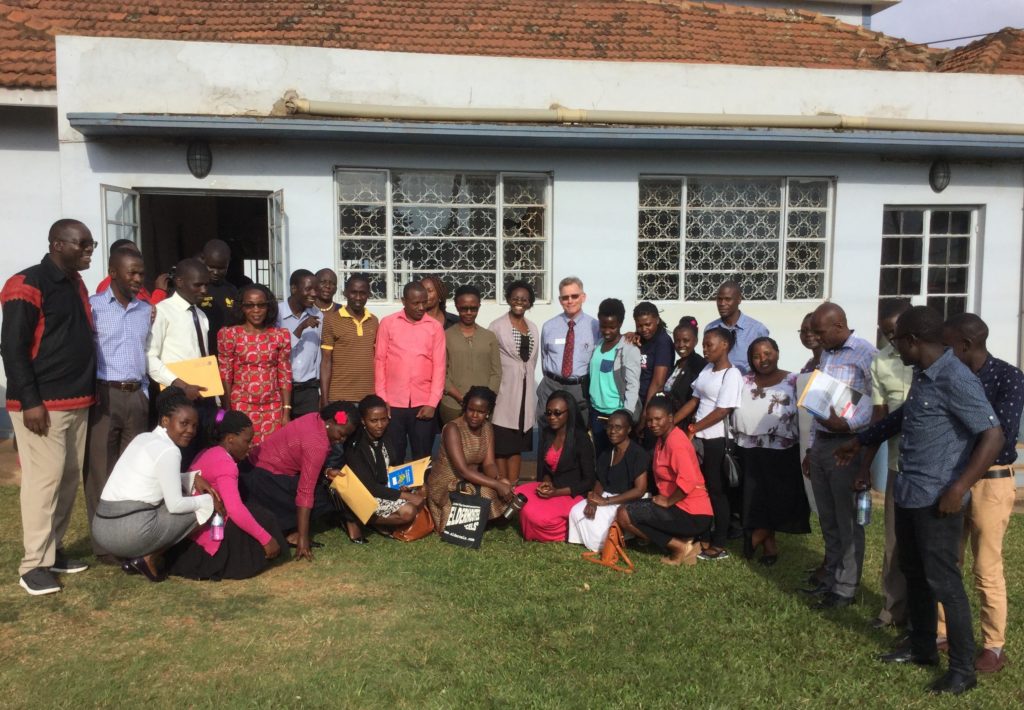 For my second and third weeks in Africa, I traveled to Mzuzu in northern Malawi, to conduct seminars with Arnold Phiri, a pastor from Blantyre in southern Malawi, and Empower's Coordinator for Malawi.
The first seminar in Mzuzu was with pastors and other leaders from  "African Indigenous Churches" or "AIC's" – churches founded by Africans independently of Western denominations or missionaries. Arnold arranged this seminar through Pastor Natian Munthali, who invited the pastors and elders from other independent churches throughout the Mzuzu area. The 45 participants at this seminar represented 27 different congregations.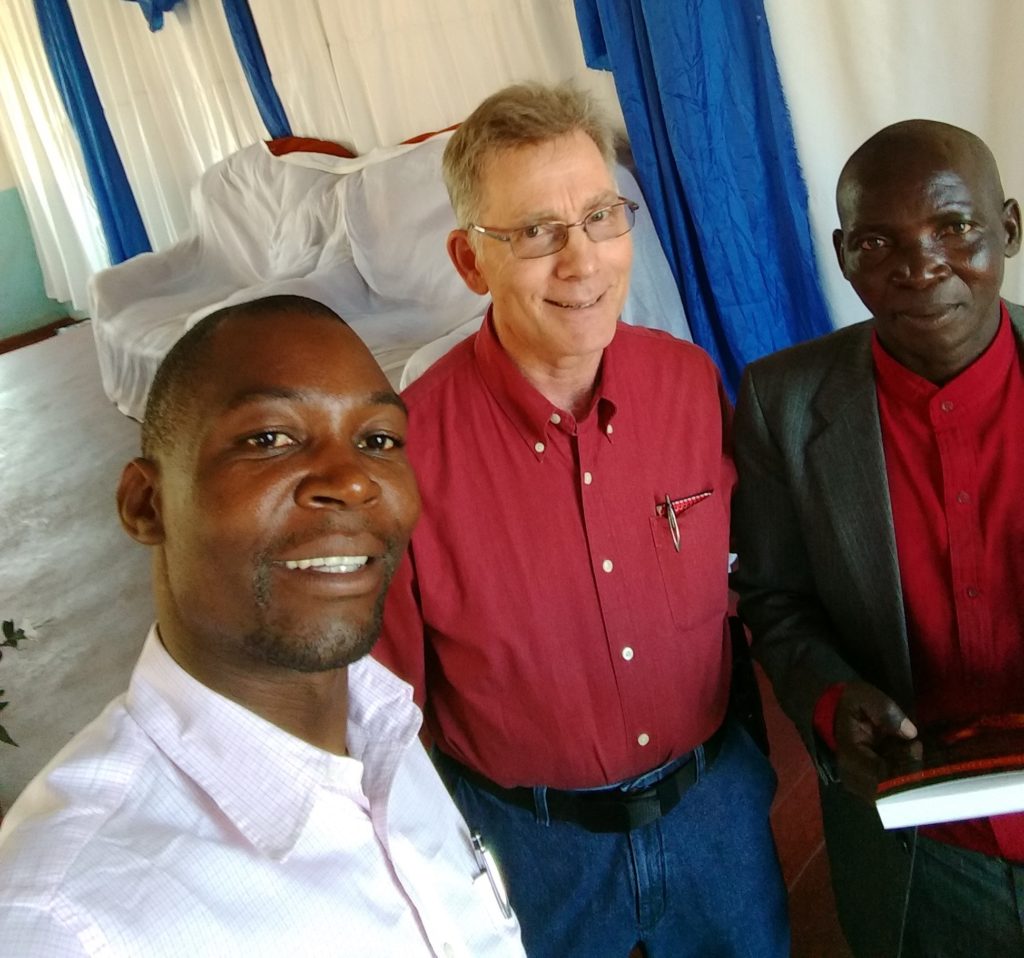 The final seminar Arnold and I conducted was with the Chibavi Church, a congregation in the local synod of the Church of Central Africa Presbyterian (CCAP), led by Pastor Isaiah Mhone (pronounced "M' HONE-ie"). The 30 participants were lay leaders from the congregation, selected from 20 churches in their synod to have the seminar conducted at their church.
This seminar was arranged by Rev. Glad Kumwenda, the director of "Capacity Development" – essentially Christian Education, Discipleship and Spiritual Formation – for the entire synod. Arnold and I got to know him during our seminar last year with students at the University of Livingstonia in Ekwendeni (just north of Mzuzu), operated by the CCAP. Arnold followed up with him this last summer and Rev. Kumwenda, in conjunction with Rev. Mhone, selected this church for a "pilot" run of our seminar with a congregation.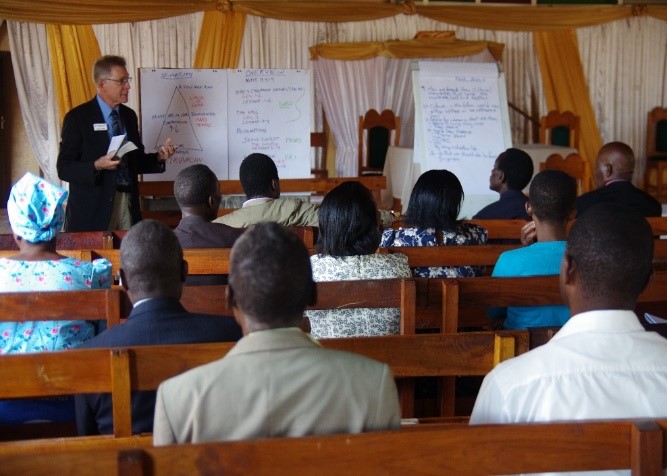 Seminar Impact
Comments by seminar participants were a strong indicator of the positive impact of our ministry.
A man in the KEST seminar expressed his liberation in learning the true meaning of submission. The Greek word means to put or place under, not the suppression that often results when men are encouraged to think of themselves as little gods in their homes. With this new understanding, mutual submission makes perfect sense, where each member of the household puts the others first and seeks to empower them to flourish as the Lord desires.
A Gender Specialist at Mzuzu University spoke of how she has often seen the Bible used to justify gender inequality and male entitlement. For example, a one-sided understanding of submission is typically used as a weapon to shut women down. Now, she says, she has a much better understanding of the Bible's teaching on gender mutuality in order to challenge people who assert such views.
Two men explained how the understanding from Genesis 2 that Adam and Eve shared responsibility for sin entering the world (i.e., Adam was with Eve when the serpent tempted her). The first said that he will stop blaming women for sin. And, as for he and his wife at the end of the day, both tired from the day's work, he will get up from his chair and join her on the evening household tasks.
The second said that he will admit to his Sunday school class that he has been wrong on this issue and will correct his teaching.
Since our cultural application questions are open-ended, participants often express applications that we facilitators had not anticipated. For example, a woman shared that her new understanding of the Parable of the Good Samaritan as an example of ethnic and religious dominance and strife has motivated her to reach out to Muslims in love, rather than view them with fear and hostility.
A woman in the AIC seminar – a leader in her own congregation – described an incident where she was one of several people visiting a sick person in a hospital. A man – apparently from a church with more restrictive views on women – suggested they read a Bible passage together. So this woman opened her Bible and read. She said that the man confronted her and said she was not permitted to read the Bible in a public setting such as this. Now, she said, she has a better understanding of Scripture to not only defend herself but to go and train others.
One pastor in the AIC seminar expressed the impact on him of learning that women were not cursed (a common misunderstanding of Genesis 3:16) in that he used to look down on women. No longer, he emphasized, but he would now view them as co-workers in the Lord's work.
One woman described what it felt like to be looked down on by men. "Now," she said, with a clearer understanding of how the Lord Himself views her, "I feel empowered. I am no longer the same!"
The men in each seminar expressed the impact of our presentation of the type of leadership Jesus modeled. They live in a culture where the men are subtly taught to aspire to be the "big man" who has power over others in any situation. They were able to see more clearly that Jesus came, not to be served but to serve and give his life for others, and who even stooped to wash the feet of his own disciples – to exercise power alongside and even under others. They could even see themselves in Peter who, when Jesus came to wash his feet, resisted vigorously. Peter could see where this was going: If Jesus was going to wash his feet, he would be expected to wash the feet of others as well. Like Peter, they wrestled with the question of whether they were ready to become this kind of man.
Seminar Follow-Up
Someone asked me at church the other day how we do follow-up with the people who participate in our seminars. Each of these three seminars illustrate different ways in which this occurs.
The KEST seminar was not the first one that had been done in partnership with this seminary. Last May a married couple from southern California joined with Frank to conduct a seminar at KEST. The seminar I conducted with Frank was due to an invitation from KEST, which resulted from the overwhelmingly positive response to the first one. Early next year, another team (including the Founder/Director of Empower, Carrie Miles) will conduct a Master Class with graduates of the first two "basic" seminars.
The Master Class builds on the first seminar and further equips the participants to more effectively teach the material themselves, whether in a seminar format, or other church and home venues. Besides participating in the "basic" seminar, prerequisites for the Master Class include studying all 13 lessons in the Bible study guide – either individually or with a group of other seminar alumni, applying it in their own lives and families, and utilizing it in their ministries, whether preaching, teaching, counseling, etc.
As mentioned earlier, the AIC seminar was a new partnership (and the reason for the additional week for this trip), formed as a result of my colleague, Arnold, contacting a pastor-friend of his in Mzuzu. At the end of this seminar the participants were excited to hear about the Master Class, and plans are already underway to schedule this during my next trip, tentatively planned for late next summer.
The CCAP seminar at the Chibavi Church was a follow-up to the seminar we held at the School of Theology at the University of Livingstonia (a CCAP school) last year. Rev. Kumwenda was able to break away from his usual responsibilities and visit several times during the seminar. He would like to train more lay leaders in key areas of life. For example, he is starting a project in marriage training and sees our seminar as integral to what he would like to accomplish. He emphasized that they do not take this for granted and will develop an action plan. Consequently, I expect to be co-facilitating a seminar with a CCAP church on my next trip.
Arnold and I met with faculty of the two universities in the Mzuzu area, which planted "seeds" for additional partnerships. Our Ministry's materials have been adapted by our Director for use at the University level, and we shared some of these with two faculty members – Dr. Molly Longwe, who serves part time at both Universities, and Dr. Moses Mlenga, the Coordinator for Graduate Programs at the University of Livingstonia.
While our practice at Empower is to form partnerships with nationals, our initial ministry in northern Malawi was arranged through a missionary couple from my home church in Richland, Washington: Tyler Holm, who teaches at the University of Livingstonia School of Theology just north of Mzuzu, and his wife, Rochelle, who is the Manager of the Centre of Excellence in Water and Sanitation at Mzuzu University. Thanks to their advocacy for our ministry, as well as the efforts of my Malawian colleague, Arnold Phiri, we now have two solid partnerships with nationals in Mzuzu.
The Annual International Conference on Gender Education
Frank Tweheyo and I first came to Kampala several years ago for the annual conference of Ekklesia Foundation for Gender Education (EFOGE) – a non-profit organization founded by an Anglican priest in Bondo, (southwest) Kenya, and co-sponsored by Christians for Biblical Equality (CBE).
This was their fifth annual conference, and – after Dr. Miles spoke at the first conference – both Frank and I have had the privilege of being invited to represent Empower as plenary speakers for the following four.
To download a copy of our Bible study guide, "New Man, New Woman, New Life," click here. Those interested in my conference presentation may download it by clicking here.
I greatly appreciate your prayers and encouragement!
* Special thanks to Rochelle Holm for these pictures from the CCAP seminar.