We are delighted to share this report on the state of the New Man, New Woman, New Life seminars from Pastor Frank Michael Tweheyo, our African Program Director. We have currently brought the seminar to eager audiences in 11 African countries. Please pray that our work will continue to be fruitful. Pray also for peace, as civil war has disrupted our work in places like Burundi.
By Pastor Frank Michael Tweheyo
African Program Director, Empower International Ministries.
Burundi
Matana
Over the years since 2007, Empower teams led by Carrie Miles, Frank Tweheyo and Linda Ikeda have been to Matana, working with Matana Diocese of the Anglican Church of Burundi under the patronage of Archbishop Bernard Ntahoturi, who is also the bishop of the Diocese of Matana. Rev. Canon Seth, his wife, Rev. Yvette and Rev. Archdeacon Pontien Ribakare have been great anchors for Empower trainings there.
We've trained archdeacons in New Man new Woman New Life (Hence forth New Life) material together with Mothers Union workers.
Pontien has been training the youth in Rutana Archdeaconry
Most of the clergy and diocesan staff were trained over the years in both New Life and Created to Belong.
At the direction of the Archbishop, the Mothers' Union integrated the New Life material into their teachings and taught ii in different parishes under Rev. Yvette Inamahoro's initiative and supervision, while involving other core group members.
We trained and commissioned a core group of twelve people to champion the training of the New Life material. They were the first to attend an Empower Master Class in Africa.
Matana has been rated as a pilot project for Empower in Africa because of its huge success. Its model has been proposed to be used in other dioceses of the Anglican Church in Burundi and elsewhere. Empower would like to specifically appreciate Archbishop His Grace Bernard Ntahoturi and his wife for the most gracious and ardent support for Empower in Matana and Bujumbura.
    2. Bujumbura
We've conducted several trainings in Bujumbura city, for Pentecostal and Evangelical Churches as well as the Anglican Church. Over the years, we've carried out many trainings with Carrie Miles, Donell Peck, Frank Tweheyo, Canon Gideon Kwizera, Wayne Pelly, and Sarah and David Nutter, among other Empower teams.
Anglican Church in Bujumbura
We carried out several trainings in 2014 and 2015 in Bujumbura diocese. Several other dioceses of Rumonge and Muyinga took part. In the training led by Carrie in 2015, two bishops as well as the Archbishop took part in the training the last day. Rev. Canon Seth, who is now the Provincial Secretary, has been instrumental in these trainings.
We were scheduled to visit the two dioceses in April 2015 when the civil war broke out. Any program to be conducted by ministers from outside Burundi has been put on hold. Please pray for peace.
Other Evangelical Churches
Several evangelical churches under coordinator Pastor Jean-Marie Nibizi did several trainings. Jean-Marie (J.M. as we call him) has been very instrumental in organizing these trainings.
Pastor Laurent Niyonsaba has become an ardent teacher, contextualizing the New Life message in his wedding and marriage counseling lessons. He has been a great blessing to Empower's work in Bujumbura.
Way forward for Burundi
As we continue to pray for Burundi, Empower needs to plan a visit to console and revitalize program into Burundi as soon as the situation there reverts to normal.
Kigali-Rwanda
Empower has over the years conducted several programs with Gospel Fellowship Church under Pastor Francis Mutabazi as well as with International Justice Mission Kigali office. Gospel Fellowship Church conducted several other outreach programs from the trained group. Men started challenging fellow men in communal gatherings about cultural practices that support women subordination. The training therefore succeeded to equip men to challenge their cultures and is contributing toward cultural transformation on a grass-roots level.
IJM closed its office in Kigali, but Empower has kept contact with Charlotte Uwantege, its former Church Relations Officer, and with several pastors who formed a committee; they continue trainings.
Uganda
1. Kabale: We've conducted several trainings since 2008, when Mothers' Union leaders from all over the Province of The Anglican Church in Uganda were trained. We've also trained Pentecostal pastors, including the Pentecostal Assemblies of God Church, led by Bishop James Tumwijukye, and Christian Fellowship Churches led by Frank. These have ongoing programs in their churches. Bishop James' group hosts a monthly marriage conference where Frank Tweheyo is sometimes invited to take part.
As part of the the Empower ministry in Uganda, Kabale Womens guidance and Counseling Services also seeks to use the same material as a partner to share the Empower messages to communities of Kabale.
Anne and Robert Besigye report that the Kabale Womens Guidance and Counseling Services has added another component of family helper programmes targeting family wellness by promoting harmonious relationships.
Empower has been invited to several radio programs of the Voice of Women program at Voice of Kigezi as well as Hope Radio. There has been a huge mass response to these programs and there is a proposal for Empower to sponsor our own program on some of these radio stations.
Way forward: We hope to begin an Empower Club to meet every two to three months to share testimonies and plan programs over a cup of tea.
2. Bishop Barham University: The success of Empower's New Life trainings at BBUC cannot be overstated.
 The university administration enthusiastically accepted the Empower Club, which has been very active in most semesters.
Women at BBUC use the New Life manual in their weekly fellowships. Several students, including Reverends Alice and Jeneva in Kasese and Rev. Kasereka in D.R. Congo have taken the training to their parishes. Empower is planning follow-up visits to these parishes.
Uganda Christian University (under which BBUC is a Constituent College) accepted the New Life curriculum designed by Carrie Miles, and is waiting to begin rolling out in classes.
The BBUC team has been involved in Empower's activities in Kenya, Burundi, Kampala, Muhabura diocese and elsewhere.
The BBUC chaplain, Rev. Canon Gideon Kwizera, taught the New Life material together with Frank Tweheyo and Canon Jovahn over the last year. It was very well received by the university community. As a result, Kigezi Diocese has invited Empower to partner with them in the Year of the Family activities.
3. Kampala and the rest of Uganda: Empower Uganda President Margaret Kiswiriri has conducted several trainings in the dioceses of the Anglican Church in Kampala as well as other Evangelical /Pentecostal Churches. Carrie Miles, Wayne Pelly, Frank Tweheyo and other Empower team members have been involved in some of these trainings. Others have taken place in Mbarara and Lira. Empower appreciates Margaret and the team she works with for these worthy programs.
4. Muhabura Diocese: At the invitation of the Bishop, Cranmer Mugisha, Empower conducted training for the clergy of the diocese in January 2015, which was very successful. Follow-up (master-class) training is in the offing for the diocese.
Kenya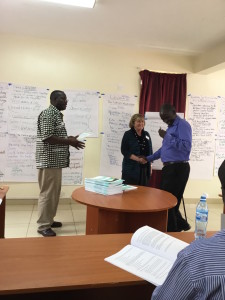 Nairobi: Several programs with David and Sarah Nutter, Carrie Miles, Frank Tweheyo, Donell Peck, Wayne Pelly and other Empower team members facilitated trainings in Nairobi, chiefly organized by IJM's Steven Olang. Several churches in Nairobi city, as well as several universities, including African International University in Karen and St. Paul's University in Limuru near Nairobi, hosted the programs. We've also made a successful connection with Teen Challenge, for whom Carrie Miles, Donell Peck and Frank Tweheyo have done some training programs.
From the recent training program with St. Paul's University under Dr. Zablon Bundi's direction, several follow-up programs have been planned, starting in June of this year. Among these is another training at the University, a program with Rev. Jackmoris at Utawala Anglican Church of Kenya, and a proposed meeting between Empower and the clergy in the Nairobi Anglican Church of Kenya (ACK) diocese. Carrie Miles is also planning a Master Class for St. Paul's University in 2017.
2. Bondo and Maseno West ACK dioceses: These dioceses in Western Kenya invited Empower to mass-train their clergy. Thus, in 2012 Empower trained 230 clergy and lay leaders followed by master class training a year later. Empower also trained 110 clergy and lay leaders for Maseno West and master class training is in the offing. These trainings were great learning points for Empower, whether to promote mass-trainings or whether to stick to one group at a time.
Bishop Wasonga at Maseno West reports that as a result of the programs there, there are now many more women lay leaders. A group for male and female lay leaders is meeting, and there have been some marriage seminars.
3. Bungoma: Following the maiden training facilitated by David and Sarah Nutter in this area in 2009, and a follow-up training by Frank Tweheyo and Wayne Pelly, Apostle David Wanyonyi has trained many different groups, quite successfully. Because of challenges encountered along the way, Empower is still studying the way forward for this front. Empower appreciates Apostle Wanyonyi for his initiatives, as well as translating the New Life material into Kenyan Swahili.
Tanzania
Dan and Francine Thomas have done several trainings in Tanzania which led to translating the new Life material into Tanzanian Swahili. Frank and Phobice Tweheyo also traveled to Tanzania a few years ago for Empower. Follow-up trainings are in the offing.
D.R.Congo
After several invitations by Milly and Agnes Ibanda of Goma, an Empower team comprised of Frank and Phobice Tweheyo and Canon Jovahn from BBUC conducted a successful program in the regional town of Goma. Several invitations to other parts of Congo resulted from this training, as well as from the University of Goma, which is a priority plan for near future Empower engagements in the country.
Nigeria
Empower's Frank and Phobice Tweheyo visited Nigeria in 2012 and did two trainings in Benin City and Lagos. Follow-up trainings are long overdue and are being planned for next year.
Malawi and Zambia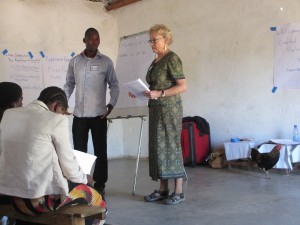 Rev. Dr. Sally Bryant and Ms. Aimee McKone have worked closely with local partners Pastor Arnold Mphulupulu, Pastor Bright Bottoman, Pastor Harrison Kamanga, and Pastor Philip Linde in Malawi, and Pastor Simeon Moyo and Pastor Francis Sililo in Zambia since 2009. They understood there was a great demand when their first class, promoted by Pastor Boniface Machewere in Malawi, was attended by 100 people! Since then, hundreds of people have been trained in these two countries, with about 60 people certified as master trainers. New Life workbooks are available in Chichewa, the local language in Malawi and Zambia. Local partners have held seminars in both countries.
Great testimonies have always emanated from these countries and the work there has the potential to spearhead trainings into surrounding southern African countries. Coupled with New Life training, humanitarian aid in the form of water distribution to some communities has been realized. Thanks to Sally and Aimee for exhibiting great leadership for Empower to these nations.
Ethiopia
Carrie Miles make a quick visit to Ethiopia last year that we hope will eventually bear fruit for a fully-fledged New Life training.
Mozambique
Following Frank Tweheyo's visit to Mozambique September 2015, Empower was invited to conduct a training there. Frank and Phobice are scheduled to begin maiden training in Nampula Mozambique in May 2016.
South Africa
An Empower team visited South Africa in 2009 at the invitation of Canon Ethel Pittaway. Ethel, who leads the gender desk for the Port Elizabeth Diocese, uses the New Man, New Woman material extensively in her programs.
Conclusion
One may ask: how has all this work benefitted Africa? Can one provide empirical or scientific evidence that Empower's efforts in Africa are having an effect? Well, the simple answer to this worthy question is that the work of the Holy Spirit cannot be measured. It defies human measurement in terms of percentage and relational/cultural transformation.
The first step we can use to measure how this has been impactful is to refer the same question to ourselves as Empower teams who have been involved in these training. To what extent have we been changed? What have we learned along the way that has changed the way we live, behave, relate and worship? If we have allowed God to change us along the way, to change our own mind-set as holistic practitioners who are open to embrace this change, then we are well on our way to see a change in the rest of the people God has given us to minister to. "The first goal toward transformation is a changed people, a restored identity. The second goal of transformation is shalom: just and peaceful relationships built and sustained along the way." (Bryant Myers, 2016)
"If you want to liberate the poor, allow them to set you free first…so that God can find you in them." (Theognostos)
Frank Tweheyo
February 2016