The recent sudden passing of Margaret Kiswiriri, President of Empower/Uganda, shocked and saddened all of us. Margaret suffered a stroke and passed away on December 1. (More details here.)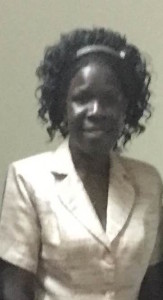 The Empower Uganda team met recently to elect a new president to take her place on the board.
Frank Michael Tweheyo, Africa Program Director, reported recently that the team met at World Shine Offices and unanimously elected Joyce Ouko as the new president for Empower/Uganda.
Joyce is a women leaders development officer for the Pastor's Discipleship Network, PDN, in Kampala.
With her husband, Julius, she has ministered to women and children in Uganda in a variety of ways for many years. She has been a friend and important partner of Empower since the very beginning of our ministry.
She also serves as a general secretary on the local Council One in Kampala, and a children and youth mentor with the African Leadership and Reconciliation Ministry. She has been facilitating workshops for World Shine Ministries, Pastor's Discipleship Network and others for 12 years.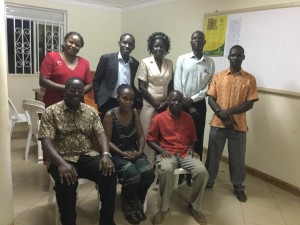 In addition, a committee will serve with Joyce, with Rev. Dr. Medad Birungi, president of World Shine Ministries, serving as patron. Ogwang Steven will serve as vice president.
The new board includes (in the photo at left), seated: Frank Tweheyo, Christine and Pastor Onyaiti. Standing: Connie Birungi, Bishop Ogwang Steven, Joyce Ouko, Julius Ouko and Pr Otiti. We are delighted to have Joyce stepping into this important role.
It is in profound gratitude that we will dedicate Empower's work in 2017 to the memory of Margaret.