This month, Empower teams will begin traveling again, taking the message of equality and God's plan for families to partners around the world. We are stepping out in faith, responding to these amazing invitations, and we hope that you will partner with us by supporting our work.

Our upcoming trip includes five different events, in three countries, in a little under three weeks. Much of the training we deliver will be for leaders, or a Master Class—where we train the trainer, getting the most "bang for the buck" as we teach others how to present the New Man, New Woman, New Life materials. We've seen many times how this training model allows our message to reach a broad audience quite quickly.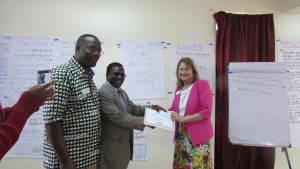 Our teachers raise their own support, and often end up paying their own travel expense out of pocket. While that dedication is admirable, we want to change that.
Our goal is to raise $8000 this month to cover the basic costs of this trip, so that our teachers can focus on presenting well, and on building important relationships with church leaders. Your generous gift toward this campaign allows our team to focus on the job of speaking and teaching. Click here to donate.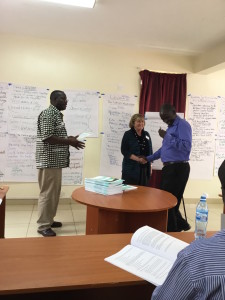 The trip will take us to Rwanda, Uganda and Kenya. Carrie Miles and Donell Peck will fly to Rwanda at the end of this month, where they will meet with an Anglican bishop who wants to have New Man, New Woman, New Life in his diocese. From there, they will travel to the Kigezi Diocese, Kabale, Uganda, where they will present NMNW for the bishop, senior pastors and staff there. (March 1-3).
Their schedule for the rest of the trip is jammed with opportunities:
March 5: speak Kisoro, Uganda
March 6-8: Master Class for Muhabura Diocese, Kisoro, Uganda.
March 10-12: gather with the Empower chapter in Kampala, Uganda, which recently elected a new president, Joyce Ouko.
March 13 – 15 Master class at St. Paul's University, Limuru, Kenya
March 16: Speak at Kenyatta University in Nairobi, Kenya
We have been to St. Paul's University several times, and found great opportunities there. We'll be conducting a Master Class for those who took the basic class in 2016.
Because the diocese is large, people travel quite a distance. We provide them with food, course materials and a place to stay while they attend the two-day seminar. This makes putting on the class expensive, about $4000—but it is a place where we've seen terrific return on investment. God continues to use our teaching to change lives in Kenya.
Further, we need to raise funds to travel to Nairobi. International airfare alone for two teachers is around $3700, plus they'll have other transportation and lodging expenses once they are in Kenya.
Our goal for this fund drive is $8,000. Every gift helps. This will help pay for travel expenses as well as the cost of putting on the seminar, feeding and housing the participants. To donate, click here. 
Your donation can make a difference for individuals, couples, families and whole communities. We hope you will pray and share this message with friends, and give as the Lord leads you. Whether or not you're able to give, please pray for our team as they travel, and that the truth would set people free.