by Wayne Pelly
Well, I admit that this Trip Report on my recent mission trip to Tanzania and Malawi is a bit overdue. This was my fifth trip to east Africa with Empower International Ministries, and I've found that I typically return to a backlog of responsibilities both at home and at church, where (for the last two years) I have been an elder with leadership responsibilities for the Missions Council. This year the impact of these responsibilities was more significant than in prior years (and my recent foot surgery really didn't help, either – although it is healing well), so I appreciate your patience.
My first stop was in Dar es Salaam, Tanzania, where I participated in the third annual conference held by the Ekklesia (i.e., Church) Foundation for Gender Education, or EFOGE, co-sponsored by the American organization, Christians for Biblical Equality (CBE), from September 20-22.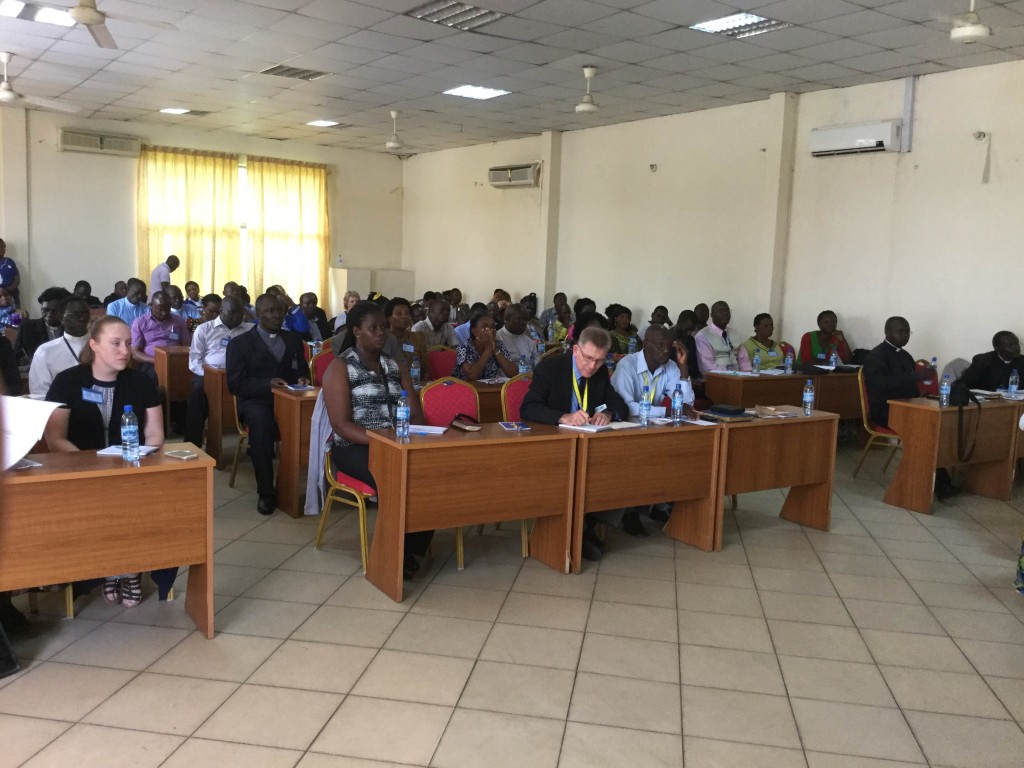 My topic was "Genesis as the Basis of Gender Equality" in which I summarized much of Empower's teaching from our unit on Genesis 1-3. "Equality" is a tricky word, bringing up arguments by many in America that it must mean "same" – which is not the case – especially when you view it from an African perspective. "Equality" (or we might more accurately say, "mutuality") as taught in the early chapters of Genesis is truly transformative in a culture in which men and women (boys and girls as well) are anything but equal.
For example, the observation that God gave both men and women "every good thing for food" challenges common cultural taboos that certain forms of protein are reserved for men (and restricted from women). The discovery that God did not curse Eve, but rather the ground, offers hope to women, who are often viewed in many traditional cultures as having been cursed by God. This is based on a misunderstanding of Genesis 3:16 but pushed to its logical extreme by a culture that takes curses with all seriousness. Our teaching challenges men regarding the harsh ways they have justified in their treatment of women.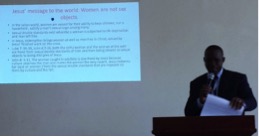 The papers presented by Frank and myself were both based on portions of the material in our Empower seminar, "New Man New Woman New Life" (NMNW). Our presentations were very well received and resulted in multiple invitations to Empower from countries such as Zimbabwe, Cameroon, the Democratic Republic of the Congo, Kenya and other parts of Tanzania.
Following the conference, Frank and I conducted the first Empower seminar held in Dar-es-Salaam, Tanzania on September 25-27.
This seminar illustrated that it is not easy to break through in the mindset of people. As often happens, many participants came to the seminar already convinced that Adam was not in the garden when Eve was being tempted. (Such an interpretation reinforces a common cultural belief that women are solely responsible for the entry of sin into the world.) Following intense discussion, they finally recognized that the Bible is actually quite clear about both Adam and Eve being present (with Adam being first a silent witness and then an active participant). Several seminar participants (including pastors) stood and expressed their repentance for perpetuating a false teaching that has such harmful effects.
Both the EFOGE conference and the Empower seminar were coordinated by Eliya Wilbert Musa, who is the country coordinator for EFOGE, and also an employee at the American Embassy in Dar.  For our seminar he recruited nearly 40 church leaders in and around Dar es Salaam including Anglican, Methodist, Moravian, and Assemblies of God, who belong to the Christian Council of Tanzania.
Some of the participants in our Empower seminar had also attended the EFOGE conference the previous week. One significant attendee, Rev. Domnic Misolo, an Anglican priest in Bondo, SW Kenya, and the Founder and President of EFOGE, as well as his assistant, Risper Odongo, also attended the seminar. (He had missed previous seminars Empower has held in Bondo due to his busy schedule.)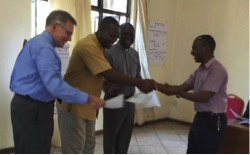 Following this seminar, Domnic expressed to me his positive impression, not only of our seminar, but of the value of holding it in conjunction with his conference. He expressed a desire to use this same dual format when his next conference is held in Kampala, Uganda in September 2018. He also extended an invitation to me to speak at it, and we discussed possible topics.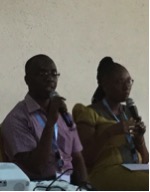 The time in Dar es Salaam was also an opportunity for me to renew my  with Eliya and his wife Consoler of Dar es Salaam, whom I had met at previous conferences in Kenya. Consoler, who had herself been abused as a child, has launched an organization to rescue young girls from situations of domestic sexual abuse. "New Hope for Girls" now has around 150 girls living in various homes throughout the city, including 39 in Eliya's and Consoler's own home.
My next stop was in northern Malawi where I joined Pastor (and Empower's coordinator for Malawi) Arnold Phiri of Blantyre (in southern Malawi) to conduct a New Man, New Woman, New Life seminar in early October. Empower is a well-established presence in southern and central Malawi (around the cities of Blantyre and Lilongwe, respectively), where Dr. Sally Bryant, an associate pastor at a church in the San Jose, California, area, and others had been working with Pastor Phiri for the last several years to conduct Empower seminars. This was the first opportunity for Empower in northern Malawi, however.
The seminar was the fruit of my meeting with missionary Tyler Holm, a lecturer at the University of Livingstonia's Faculty of Theology. I met him when he, his wife, Rochelle, and young daughter Mphatso were on a short "furlough" at our church in December 2016. At that time, I had an opportunity to explain the message and teaching strategy of NMNW.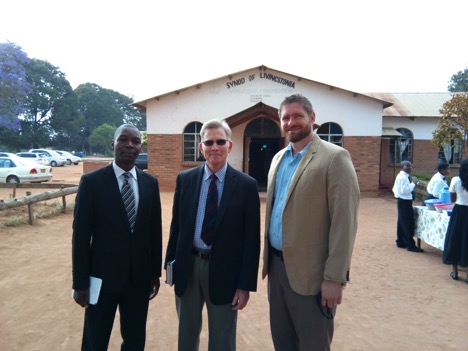 Upon his return to his community of Mzuzu in northern Malawi, Tyler shared the materials I had provided with appropriate personnel at the School of Theology of the University of Livingstonia, where he is a Lecturer, and in the Mzuzu office of the Synod of Livingstonia of the Central Church of Africa Presbyterian (CCAP). The seminar was held at the campus of the University of Livingstonia in Ekwendeni, a community about a 20-minute drive north of Mzuzu on Monday-Wednesday, October 2-4, 2017.

Attendance ran about 16 per day (a total of 20 attendees overall), smaller than a typical NMNW seminar but large in influence, as all but one were advanced (e.g., masters through doctorate) students at the university as well as most of them already or soon to be ordained pastors (including four woman – reflecting the makeup of the School of Theology, which is 90 percent male). The one person who was not a student/pastor was a woman leader from a church in Mzuzu who was asked by her church leadership to attend in order to evaluate the potential future relationship. She emerged at the end of the seminar as a strong advocate for just that.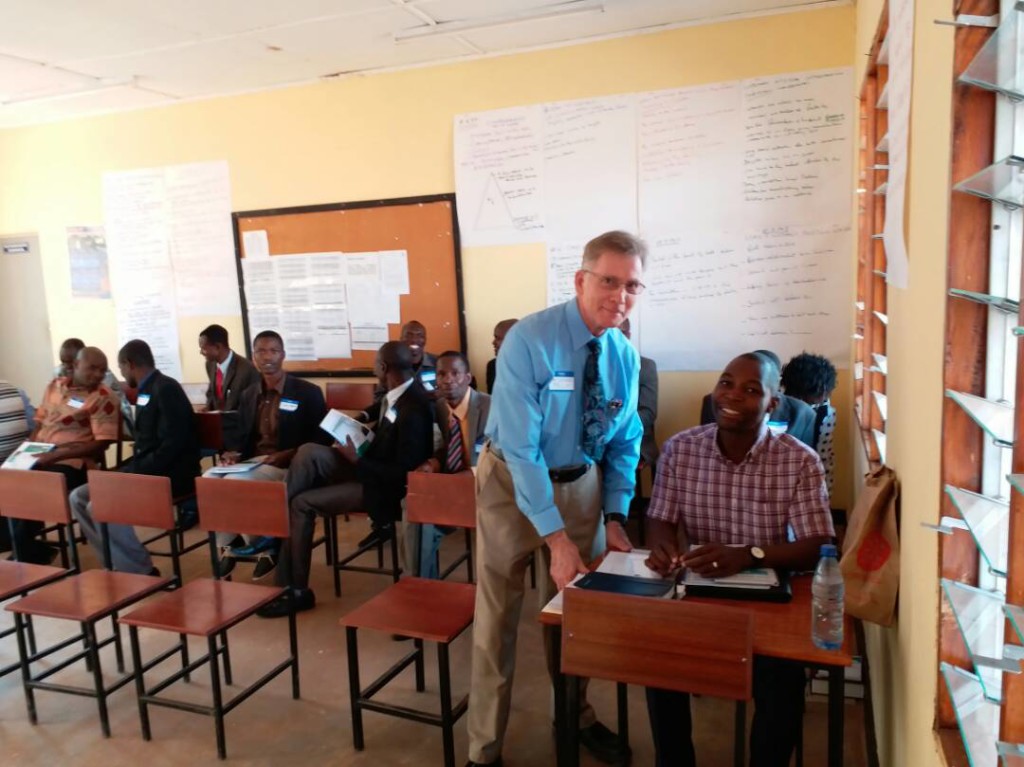 Of course, in what is essentially a seminary environment we encountered some "twists" that we might not experience otherwise. For example, the students are not as homogenous as we might encounter in a church-based seminar, as the students come from a wide area and represent multiple tribes. So in one small group discussing the "burdens on women in your culture" it became clear that more than one culture was represented. For example, when one student mentioned polygamy as a burden on women in his culture, a student from another tribe countered with, "why is that a burden?"
Needless to say, Empower's lesson on the curse on the ground as the key element to understanding the impact of the fall and the origin of polygamy brought greater understanding and a more unified approach to addressing cultural practices such as this.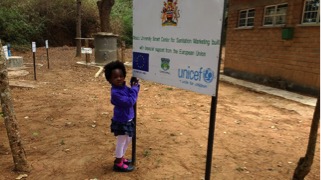 One reflection I had was that it appears that both church and university leadership are aware they have significant gender-related problems. They've already taken steps to address them, such as offering courses on gender within the University. Judging from the response of both participants and leaders to our seminar, it appears that we "hit a nerve." Their response was very encouraging!
One particularly memorable scene was with the post-seminar debriefing meeting. Dr. Joyce Mlenga, the Dean of the Faculty of Theology and the Rev. Glad Kumwenda, the Capacity Development Officer (i.e., director of Christian Education and Discipleship) for the Synod of Livingstonia of the CCAP, Tyler, Arnold and I, as well as Rhoda, the woman from the Mzuzu church that I have already mentioned, walked through the room where our seminar flipcharts were still posted on the walls. The University and Synod officials both spent some time scanning the flipcharts, expressing amazement at the scope and depth of the material that we had covered. They expressed a lot of interest in pursuing an ongoing partnership, which Pastor Arnold will follow up on. (Arnold also shared about the "Created to Belong" and "Healing from Trauma" programs, two other Empower seminars that address attachment disorders and other trauma-related issues, which these leaders were also interested in.)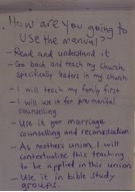 We look forward to the prospect of a fruitful partnership between Empower International Ministries and the University of Livingstonia and the Synod of Livingstonia of the Central Church of Africa Presbyterian in northern Malawi!
Some final reflections: One of the perspectives of Empower International Ministries is that we have as much to learn from Africans as they do from us. So I've had the opportunity to reflect on returning to the U.S. just as the "#MeToo" movement was getting underway – followed by "#ChurchToo" (and more recently, "#SilenceIsNotSpiritual") – reminding us that sexual harassment is also a problem in the church.
For example, Matthew 5:27-28 is addressed twice in our Bible study guide: "You have heard that it was said, 'You shall not commit adultery.' But I say to you that everyone who looks at a woman with lustful intent has already committed adultery with her in his heart." The challenges that these words of Jesus bring to traditional African cultures are just as relevant to modern Americans.
Indeed, with Jesus making such a strong statement addressing the root of the problem, one can only wonder why Christians are not making him part of the national discussion on the important issues being raised by the "#MeToo" and related movements.
In our study guide, we first discuss this passage by looking at the ways in which Jesus addressed male honor and dominance – issues that are documented as part of the fallen world in the previous lessons. Rather than seeing sex as a means of relationship with one woman, men often feel compelled to prove their manhood by sexual conquest with many women – reflecting how lust, unlike attraction and love, is strongly linked to male power and dominance. The discussion of these verses in this context challenges both the men and women in our seminars to re-evaluate how a "real man" behaves sexually.
The second occurrence of this text takes place in one of two lessons that explore the impact on women of Jesus' actions and words. In contrast to the typical traditional African value that paying dowry or bride price entitles a man to a woman's children, food and sex, many examples from the Gospels show that Jesus does not limit women to these roles. Rather, he values them for their relationship with God and empowers them as His witnesses in ways that are not limited to traditional roles, and calls us to do the same. (We often encounter men – even pastors – who have never thought of their wives as anything else but household servants – with "benefits.")
The questions in this context go straight to the heart of some common cultural values in both traditional and modern societies: "Who does Jesus make responsible for a man's lust – the woman or the man?" And, "How would women's lives be different if all men obeyed Jesus and stopped lusting after women?"
Contrast Jesus' strong statement with the opinion expressed by some of the men at the EFOGE conference, during a discussion of rape, that the problem of rape could be solved by stricter dress codes for women. This reflects a strong cultural value that blames women for men's sexual lust and abuse of power, a cultural value that is also not uncommon in the U.S. (even among some Christians). The implications of Jesus' statement, however, are very clear: Men are responsible for both their thoughts and their actions.
Some of the men at the Ekwendeni seminar raised their own objections at this point in the study. They felt the seminar study guide was singling out men for disproportionate criticism. Of course, the obvious issue here is that Jesus is the one who singles men out. (While it does happen in our modern world, it is much less common for a woman to be able to use a man as a sexual object against his will.) The second issue – perhaps not as clear – is that Jesus is seeking to free both women and men from the false values of the fallen world: To free us all to work together for the sake of His kingdom.
For those who would like more information, a copy of our Bible study guide, "New Man, New Woman, New Life" is available here on our website. Also, you can read my conference paper here. (Note: The American edition of our Bible study guide is called "Face to Face," by ministry founder & director Carrie A. Miles. For details, click here.)
Finally, thank you for your interest in this vital ministry. For those of you who prayed, and those of you who gave: A special thank You! You have helped to make this ministry possible and effective!
Be Blessed!
Wayne A. Pelly