Linda Ikeda recently returned from Malawi. Here is her report.
I arrived home recently after a 35-hour return journey from the beautiful country of Malawi, Africa. I want to thank you for all your prayers and support as I prepared, participated and returned from this endeavor. This was my tenth trip to Africa, my third to Malawi and I have so many wonderful snapshots and moments to share.
Our team traveled June 23-July 9. Traveling again with Sue Kerrigan, an RN from the Seattle area, and first timer Ann Lo, an MFT like myself, was such a privilege. Sue knows the material well after teaching for the second year and could easily lead her own team in the future. Ann is a gifted teacher with ability to think "outside the box" and deliver information in interesting and accessible ways.
Probably the highlight of the trip was witnessing what God is doing without us! By that I mean, seeing the effectiveness of Empower's train-the-trainer (T3) model. Empower's goal is always to equip nationals with information and educational tools so that they can be equipped to reach the "least of these" in their country with life giving, life improving and life altering tools.
With the Created to Belong and Healing From Trauma curriculum, we seek to empower and equip pastors, church leaders and parents who are assisting been orphaned and traumatized children, as well as trauma survivors of all ages. Some of the unexpected benefits for those who participate are:
The chance to learn normal childhood development, which helps them as they raise their own children
Opportunity to resolve some of their own traumas
Gain self understanding about the child they once were, and
Learning scriptural truth about God's design in their own spiritual growth
This year in the Mulange area, we inaugurated the Master Class for Created to Belong, which provides more in depth information about key lesson concepts, as well as focusing in depth on teaching techniques. I had completed the writing of this new workbook, just in time to have it printed in Malawi. All attending the Master Class had been actively teaching in neighboring villages.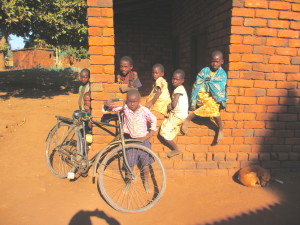 We were privileged, over the course of a day and a half, to visit eight village gatherings of groups that had received trainings by our Malawi partners.
At each locale, we were greeted with singing and dancing to welcome us.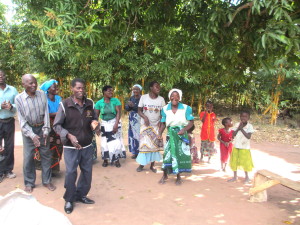 We were delighted to hear feedback about how the materials had impacted their lives. Some of the most poignant comments were:
We never knew that babies had "needs" and their crying was a "signal"
I no longer call the children names like "dog"; when the children misbehave it is because of unmet needs

A little drummer in Malawi greets us.

In the past, we didn't understand children; we thought they were misbehaving so we would discipline them by whipping them. We understand now that children have needs and if parents can meet the children's needs, the children will learn to trust.
I have learned that when a child is smiling, I should smile back. This book has really helped me learn to take care of children, whether my own or others.
When the baby is in the womb, if there is addiction, it affects the baby
We can communicate our needs to God through prayer
I learned that I need to be attached to God and that troubles should not cause us to abandon God

Participants gathered to tell us what they'd learned.

I didn't know that losing my son was a trauma
I have benefited a lot. I was asking myself, where was Linda all this time? I have learned about forgiveness that we have to forgive others. This book has helped me reconcile with a lot of people, people who were enemies.
These quotes reflect the quality of the teaching that our African partners carried out in the villages; the T3 model at its best! Pastor Arnold Phiri, pastor of Amazing Grace Pentecostal Church in Blantyre, has become an invaluable partner to Empower as he oversaw the trainings given by the local teachers, handled all the details of workbook publication and distribution, and even created a Malawi version of the evaluation form Empower uses after each training event. (Pastor Arnold also wrote the translation for the Created to Belong workbook.)
Following our five days in the Mulange area, where we taught representatives from 17 churches from multiple denominations, we took a four hour bus ride to the capital city of Lilongwe where we were fetched by Jackie Strong (wife of Tim Strong who grew up at SFC) and hosted at their lovely home for two nights. We enjoyed the healthy meals (containing vegetables from their garden and eggs from their hens!), the menagerie of animals, and their interesting guests who were contacts from their Peace Corps days. It was a welcome respite between trainings and we are so grateful to them.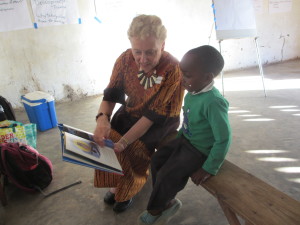 I preached at Pentecostal Revival Church, Lilongwe, led by Pastors Harrison and Miriam Kamanga, before driving five hours to Mzembe, nestled on the beautiful and enormous Lake Malawi, where our next four days of training took place. This was our first time in this area of the country and we enjoyed the lovely views of the lake, as well as being hosted by Bishop Peter Chirwa and his wife Selena. Bishop Peter, founder of the Pentecostal Revival Church, is pastor to Pastor Harrison and Miriam, who were also with us, as well as to pastors from the other 49 churches in his denomination.
We taught both the Created to Belong and newly translated, Healing From Trauma seminars, to pastors and leaders from 18 different churches of varied denominations, which were well received. As always, the singing throughout the days of training is such a sweet experience for us as the teaching team.
On the last day of training, as I was preparing the flip chart with my back to the participants and the group was singing, I closed my eyes for a moment, and prayed, "Lord, help me to remember the beauty of this moment always. It is just so sweet."
On the five-hour drive back to Lilongwe, accompanied by Pastor Harrison and Miriam Kamanga, we saw a large column of grey smoke which we assumed was caused by a fire. But when we saw villagers running down the road with large baskets we asked our hosts what was happening. Apparently, once a month, swarms of little tiny flies come off the lake and fly around on the land and since they are quite the "delicacy," villagers were catching them in their mouths and baskets to either eat as they ran or later roast and eat. So the column of smoke was actually a dense column of tiny, tasty flies. Who would have known?
Between Mulange and Mzembe, we conducted four trainings and awarded 278 certificates for course completion. It was a very meaningful and fruitful trip. I can't wait to see what God does in the coming year! Thank you for your partnership and love.
"Lord you establish peace for us. All that we have accomplished you have done for us. "Isa. 26:12
In Service,
Linda M. Ikeda