Empower Missionary Sally Bryant will travel to Malawi and South Africa this July. Malawi desperately needs the work of Empower. Read on to learn about the amazing progress we're making there and how you can be a part of positive change for women and girls.
"Educate a girl, and you educate the community."
Malawi has the worst statistics on child marriage in the sub-Saharan region, with close to 50 percent of girls marrying before they reach the age of 18. Girls without an education tend to marry early and have children early, often when they themselves are still children. Children born to mothers who have limited education are 40 percent more likely to die before they reach the age of five.
Because of these statistics, and because my heart has been so touched by these children, this year's trip to Malawi (my 8th) will focus on training "mamas" as they attempt to teach orphans with virtually no resources. (The mamas are already doing the challenging work of taking in orphans and providing food and shelter for them). Last year, Pastor Arnold built a one-room schoolhouse for orphans in a majority Muslim village outside of Blantyre, Malawi. The village chief, a Muslim woman, even gave permission to teach about Jesus. Muslims, though they do not accept the divinity of Christ, do revere him as a prophet and therefore do not object to learning about him.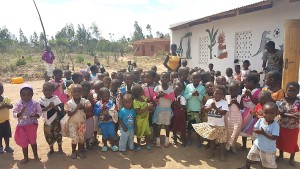 When I first started visiting this village, there were a couple of small mosques and mud huts. The term "rice Christian" was common—used to describe people who would go to missionaries or churches to receive food. But now, oil money is being poured into the region, and the Muslim influence is growing more and more. Today, the term "maize Muslim" is much more common. People realize, if you want to eat, you go to the mosque. In a way, it's what the churches did years ago, but now they have stopped. And Islam is filling the void.
Our new one-room schoolhouse offers an educational option for these kids, who otherwise would only be able to study in a madrassa (Islamic educational center). However, madrassas do not teach the children to read or do mathematics. And they typically don't teach girls.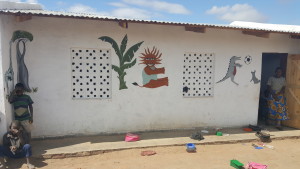 Girls are often not educated at all, or only receive minimal schooling—much less than boys. The girls typically have the job of fetching water, and so miss out on the opportunity to go to school.
Having a woman as chief may seem progressive, and she does have some decision-making power. However, many women chiefs are figureheads. In this and similar villages, the real power lies with the chief's brother. The women in the village are typically controlled by their family of origin, most often their brother. In fact, some of the men tell us that they fear for their lives because of the way family systems work. When a woman marries, her new husband must pay a dowry to her family—and again, usually the eldest brother handles that transaction. Once the woman has a few children, there have been times when her husband has been killed, so that the woman's brother can "sell" her for another dowry to another man. This can happen multiple times. That woman's children call their uncle "Father" because he is the one in power. The crimes are rarely prosecuted.
Another horrific practice in Malawi is the rape of young girls and widows, which is culturally accepted because of superstition. (Click here to read a report we ran on the blog about this.) A man, known as a "hyena" will rape young girls to "prepare them for marriage" and also do the same for widows, to "cleanse" them after their husband has died. A report last year from the BBC on this practice brought it to the attention of the western world, and yet, it is considered normal and even necessary. Tragically, the practice is common, even among some Christians.
Empower visits this village to come alongside the women who are working hard to change things.
The three-day "Train-the-Teacher" workshop will look at God's original intent for man and woman to be co-regents of his creation; reassure them that they are NOT cursed by God; and look at how Jesus treated women as equal to men. This training will help counterbalance the cultural bias against teaching girls. We'll cover "participatory learning" techniques, where children learn numbers by forming groups together and the alphabet by lining up by first name or the month of their birth.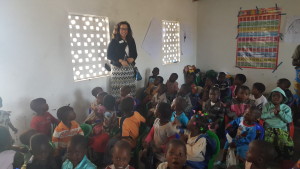 We will demonstrate ways to teach math, for example, without supplies, using available materials such as sticks or stones, or doing mental math like "I'm thinking of a number" type of games. We help teachers get creative by showing them how to cut words and letters from newspapers and magazines to teach reading and writing.
And because they need more than this, I'll be bringing textbooks to the mamas to help them teach these precious children.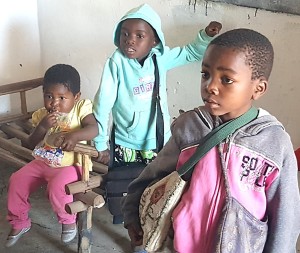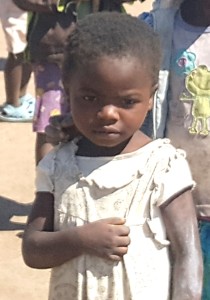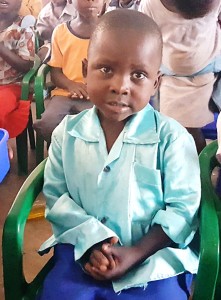 The good news? Even a small gift can help the girls in this village to rise above their circumstances. If you would like to help, here are some ways you can make a difference for this village:
$50 provides a "make-your-own" teaching pack, including scissors to cut numbers and letters from newspaper, chalk, and training manual
$75 provides a children's Bible
$100 provides one "book pack" bringing math and English textbooks to a teacher
$5000 covers the cost of the trip
Thanks for making a difference in the lives of these children! Your gift will continue to bless these children all throughout their lives!