Empower International Ministries works to dismantle the root causes of abuse and inequality. We work for change, particularly in the developing world, where women and girls are often seen as property or slaves.
We've seen transformation in places like Malawi, but we still have far to go. One example of a wonderful change is easy to see in our partner and translator, Pastor Arnold Mphulupulu Phiri. We asked him to share with the Master Class what the New Man, New Woman, New Life material had meant in his life. He told us:
When I was born and raised, my dad was the boss of the house and my mother had to submit in everything. When I was growing up, I had that in my mind that the man should be the boss. When I got married, I treated my family like that. But after attending NMNWNL, I saw that it was wrong and I changed. I started helping my wife.
When the church committee saw this, they said my wife was rude and had no manners. I showed them by doing "women's work"; when they came to my house for meetings, I cooked for them. Now they are convinced that it is good and many have changed. Now I have freedom to help take care of my kids. If Jesus is Lord, then he is the boss of the house. We now have peace and partnership in the family. My wife is my partner, not my slave.
Pastor Arnold is using the Empower material as premarital counseling material. We were encouraged by the fruit of this work when we noticed many more couples sitting together, and fathers holding their children, at the Empower training in Malawi last year.
Notice the resistance Pastor Arnold faced, not just from his peers, but from the church committee. The church has assimilated the culture around it and accepted values that are based on misinterpretations of Scripture (such as blaming Eve and all women for the Fall).
Because of this, the idea that a wife or girl is a slave or just a worker is hard to fight, especially when this is the way things have always been.
Sally Bryant, who has been to Malawi for Empower six times, has twice carefully transported the heavy pieces of a water cart (a few hundred pounds) in her luggage.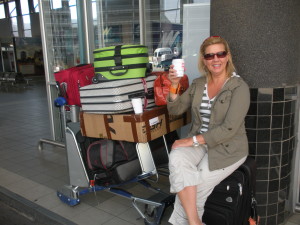 She's trying to change a situation in a village where young girls spend most of their time hauling water from a nearby river. With the cart, she thought, the girls would not have to carry water in buckets on their heads.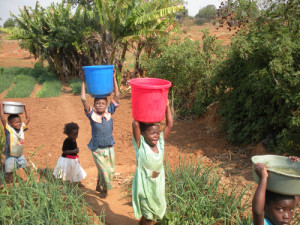 Sally explained, "This is one of the saddest things we see while traveling in Africa.  Girls are always the water carriers.  This photo was taken in a village in Malawi.  It had three wells for 700 families,  but only one was working, so the village was depending on water from the river."
The problem of broken wells in Africa is widespread. Well-intentioned Westerners come in and dig a well, but after a while, if the well breaks down, local people will stop using it. Sometimes it is because they cannot get parts to fix it, or simply don't know how to fix it.
However, Empower partners with an organization we believe is doing an excellent job with wells, Living Water. They always provide maintenance training.
Sally and her team partnered with an offshoot organization of Living Water to fix the village's broken wells and to train local people on how to maintain it.
However, getting villagers to use the water cart to actually haul water was a harder sell, despite the enthusiastic response of the villagers to the cart.
"We had just delivered an incredibly engineered water cart to great acclaim – all the village gathered together in front of the village headman's house, singing, dancing, making speeches," Sally recalls. "Aimee and I were made honorary headmen and given fur head pieces.  Everyone had taken a ride in the water cart. This was the second one they had received. Aimee and I were feeling so good about helping to change a difficult aspect of life for young girls. All the hassle of traveling with the cart was worth it."
Later that day, Sally and Aimee accompanied some villagers to inspect one of the broken wells.
"At that moment the girls came walking up from the river carrying water.  We asked why they weren't using the water cart," Sally said. "We were told the cart was their ambulance and never used for carrying water.  I can still remember how dejected I felt in that moment."
When we visit other cultures, there can be a temptation to think that our way is the best way. As Westerners we revere innovation and are, for the most part, open to change and new ideas. The challenge is to effect change while respecting the cultures which we visit. And those cultures may not value change and innovation as much as we do. The villagers in Malawi see nothing wrong with having girls spend their days working, rather than going to school. The girls don't know any different life, to them it is normal and though life is difficult, they've never known anything else so it does not seem unusual.
When Sally and Aimee (who'd carefully hauled the water cart parts through international flights and paid extra luggage fees to bring them) asked the villagers why they wouldn't use the carts for water, the villagers just smiled at them.
"We told them repeatedly the carts were to fetch water," Sally recalls. "However, in their eyes, it was a waste of resources to use the cart for water when their old system of having girls carry water was working very well. In their eyes, the greater need was for an 'ambulance' to transport people to the nearest clinic, a four hour walk."
While frustrating, this made sense. When the nearest hospital is a four hour walk away, and you're given a cart sturdy enough to carry a person, which will you use the cart for: water, or sick people—especially if you have a workable system of having young girls fetch water? They could have used the cart for both purposes, but because they've always had girls fetch water, they didn't see any reason to change what seemed a reasonable way to do things.
It may seem like change is impossible. But look again at the story of Pastor Arnold. He honestly was raised to believe his wife was to be his slave, because that was her purpose and God-ordained role. After six years of working as translator for the New Man, New Woman, New Life seminar, he changed. He began to live out what he'd learned, and to teach it to others.
In our work throughout Africa, we see change. We see families healed. We see the lives of women and girls vastly improved as men begin to understand that God's plan for marriage is mutual respect, equality and love. We ask that you'd pray for continued change in places where change comes slowly. We hope you'll partner with us in educating, challenging and empowering families so that all people are treated with the respect and dignity they deserve.