This is the third installment of our trip report. During March, Carrie and Donell spoke at five different events in three countries. You can click to read Part 1 here and Part 2 here. Travel is always an adventure, and this trip was no exception.
by Dr. Carrie Miles
At the end of the program at World Shine Ministries, Donell and I excused Frank to be with his wife, who was having a medical procedure, and prepared to leave for a hotel in Entebbe.
Having traveled to Africa many times, I've learned a few things. Transportation can take longer than expected. Accommodations are not always luxurious. Since the nearly-disastrous end of my initial trip to Africa, in which I arrived at the airport after my flight had been closed out, and only got on it due to the grace of God and a lot of pleading, I make it a point to sleep near the airport the night before I fly out. When I booked the rooms online, I could not find The Boma, where I have stayed in the past, so chose a very reasonably-priced alternative with good reviews called, "Malakai Eco Lodge."
Our intended ride to the hotel, however, experienced major car trouble. Any attempt to start the car set off the alarm, which prevented the car from starting. After about ten minutes of this, I asked Ivan, who is World Shine Ministries' information technology specialist, if he could get us a taxi. He called his "brother," Johnson, (later determined to be, technically, a second cousin), who was there within five minutes with a very comfortable large SUV—with an air conditioner! I gave our friend with car trouble some money, transferred our suitcases, and we were off, with Ivan accompanying us to make sure we reached our destination safely.
We felt lucky to have an air-conditioned SUV, especially because the typical transport in Kampala is a motorcycle (also called a boda-boda).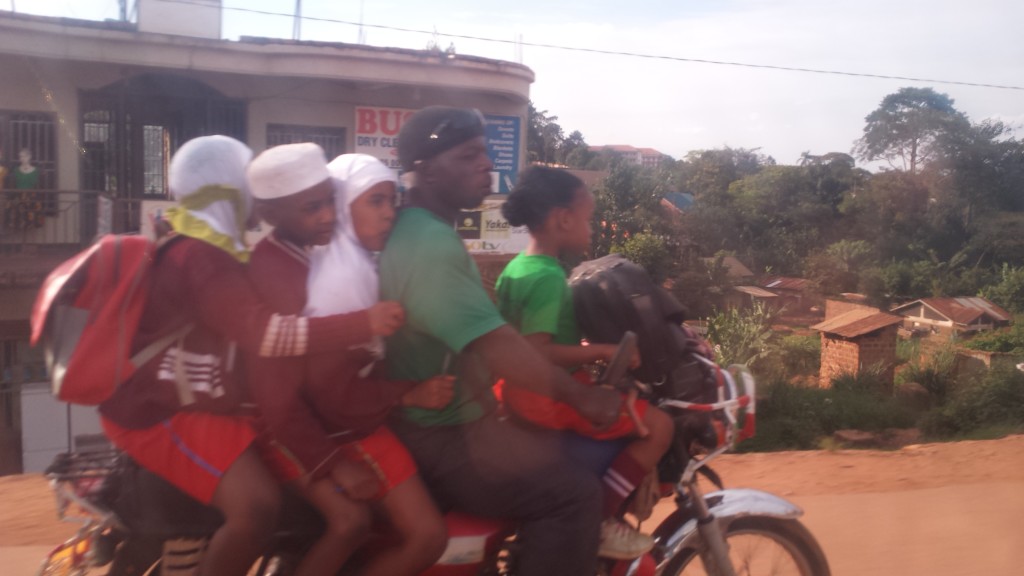 You'll often see an entire family packed onto a small motorcycle. I saw one with six people on it: four adults and two babies.
We proceeded smoothly through Kampala, but once we reached the Entebbe Road (to the airport), we found it thickly packed with traffic. Johnson almost immediately pulled off the road onto his own bypass: dirt roads through farm land, large compounds of the wealthy, and, ironically enough, the roadbeds being laid for a real bypass.
As we neared Entebbe town, Johnson rejoined the main road, on which traffic had lightened up considerably. I had not printed the map for the hotel, which was listed as "300 meters off Entebbe Road" and did not know where to turn, so I watched carefully for a sign. When I saw it, we had already shot past it. Johnson did not really believe that I had seen the sign, as we were not yet in Entebbe but in the town before it. He turned around with some difficulty, and there, indeed, was the sign. Then it was my turn to doubt, as the sign pointed down a dirt trail. Following the signs, we twisted and turned through narrower and narrower passageway between small African homes.
"Don't worry," I said to Donell. "We will check out the rooms before we commit, and if it looks bad, I will try to find The Boma." Donell did not reply, but I could feel her tension. Ivan and Johnson were also doubtful about leaving us here.
Finally, we came to a gate at the end of the road, which opened into an African wonderland of children playing, expansive lawns, lovely plantings, luxurious seating areas, and winding ponds, ringed by exotic-looking, thatched-roofed cabins. We tracked down the manager (I still do not know where Reception is), who readily agreed to show us the rooms. One was more fantastic than the next!
Donell took one look at the bathtub in the tree house and assigned it to me. Johnson and Ivan were especially excited, and volunteered to sleep in the kids' quarters.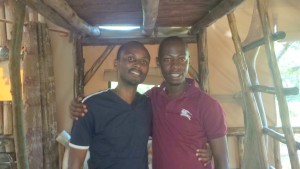 (They did not stay, of course).
We were concerned about Frank finding the Lodge in the dark, but Ivan and Johnson managed to give him good directions, and he arrived in time for an early dinner. We had an early flight, so, regretting that we did not have more time to enjoy this magical place, we all retired to our respective rooms.
As we tried to settle down to sleep, we were shocked to find that we were immediately surrounded by an unbelievably loud cacophony of frogs. There was the basso-frogs bellowing from in the ponds surrounding us, and resonant, gong-y sounding tree frogs. I got the extra dose of tree frogs because I was in a tree. I finally had to put on my sound-cancelling headphones to get to sleep, and even with a recorded book playing, I could still hear them. I did wake up about 1 a.m. to find that the frogs had quieted. It was a memorable experience.
Despite these adventures, the trip was a productive one. International travel is challenging and taxing. But we are beginning to see real change in the places we visit. Leaders are rising up—ready to take the reins of leadership and bring the message of unity and equality, to continue the work we've started and make it their own.
Our goal is to provide support and resources so that these leaders can carry forward the mission of Empower themselves. Your support makes that possible. Thank you for all that you do to equip us for ministry to families around the globe.
Our final installment in this trip report will be posted next week.