The following is part one of our March trip report. Carrie Miles and Donell Peck visited Rwanda, Uganda and Kenya this month, and had a very productive visit to several churches. 
by Carrie Miles
With some trepidation, Donell and I agreed to fly KLM for our 2017 ministry trip to Africa. We've had some unfortunate experiences on that airline before.
The last time we were slated to fly KLM, we ended up in Turkey. The time before that (several years ago), KLM diverted the very full jumbo jet I was traveling on to Ethiopia to deliver a part for a plane they had down there. The unscheduled stop was annoying enough, but we stayed there for a very long time, due to the fact (we eventually learned) that the tower had lost our flight plan. Amsterdam emailed another, but the tower could not open it. Finally, the pilot wrote out the flight plan by hand (on a cocktail napkin, maybe?), and we could leave. In the meantime, we all, including the flight attendants, grew testy, the toilets ran out of paper, there was no more drinking water, and my colleagues in Uganda had to spend an extra few hours waiting for me at the airport.
So, you probably understand my reluctance to fly KLM again, but we were going to Rwanda and had few choices of air carriers. We flew into Rwanda because it is much closer to Kabale, Uganda, where we had our first program, than flying into the Ugandan capital.
Fortunately, our 2017 trip went as scheduled, and although long, was not uncomfortable. I will have to give up my grudge.
RWANDA
We arrived in Kigali, Rwanda, in the evening, and were met by Empower's African Program Director, Pastor Frank Michael Tweheyo. We had dinner and a good night's sleep, always welcome after long flights (10 ½ hours from LA to Amsterdam, then 8 ½ hours from Amsterdam to Rwanda).
On the way to Uganda, we stopped in Byumba, Rwanda, to visit with Anglican Bishop Emmanuel Ngendahayo. Frank happened to meet him on an airplane last year, and had told him about the program. Bishop Emmanuel was very interested.
What he told us about his diocese chilled our blood. Byumba is very near the borders with DRC (Congo) and Uganda, a location that puts them at a crossroads for all sides in the ethnic conflicts, as the opposing sides would use neighboring countries first for refuge and then to stage attacks. First, we noticed out the bishop's window many unadorned building on the hilltop across the valley. This is a refugee camp for Congolese.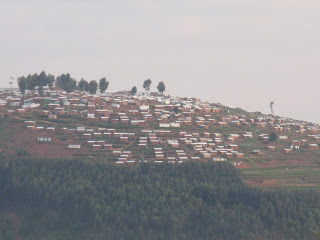 The camp has been there for twenty years, and holds about 10,000 inhabitants. The refugees resist any attempt at an accurate count, as they receive food distributions based on estimated numbers. Understandably, they want their "official" numbers to be as high as plausible. Even exaggerating their numbers, however, the food they are given lasts only a few days. Bishop said that people there still return to Congo to plant and harvest crops, which they bring back to the camp.
This is sad for the refugees, but not most the horrifying part. The horrifying part was Bishop Emmanuel's description of life in Byumba during the Rwanda Genocide (1994, now renamed "the genocide against the Tutsis." ). This beautiful, somewhat remote, hilly area suffered greatly. Bishop Emmanuel recounted that people (including himself) hid all day, coming out only at night to forage for enough food to survive. Sometimes, those who emerged from hiding found the ground thick with dead bodies. A whole generation of men are missing, slaughtered in the genocide. The survivors are still traumatized, and have little to offer their children.
Bishop said that individuals keep the conflict alive by telling the young people things like, "Your family owned that land, but it was taken away by X," then naming another member of the community. Or, "X killed your parents."
We told Bishop about Healing from Trauma and Created to Belong, and mentioned that the three of us were teaching about relationships. He immediately described the difficulties the "lost generation" of young adults experience on that score. He said a couple will get married in a burst of passion, only to separate a few weeks later. They confess that they do not understand "love," and find that their passion is not enough to sustain a relationship.
We offered to design a program for the diocese, including the Created to Belong side of Empower. Also, because the area is somewhat isolated, we think that this would be an excellent place in which to conduct an impact study. Conducting an impact study, however, as well as programs that reach a whole diocese will be expensive, however, but we believe well-worth it. We really want to offer what help we can. (To donate toward our efforts here, click here.)
UGANDA
From Byumba, we crossed the border into Uganda. We were very pleased to discover that the road from Kigali, Rwanda, to Katuna, Uganda (where the border crossing lies) has been greatly improved since we last came this way. I.e., it is paved all the way through, with no patches of dirt road. From the border, it is a short way to Frank's town of Kabale.
Somehow there was some misunderstanding on my part about when the program in Kabale would begin. We had an extra day. (Actually, most people would not consider the first day after arrival to be an "extra day," but a day to recover from the very long flight and 11 hour time difference, but I tend to be rather driven.)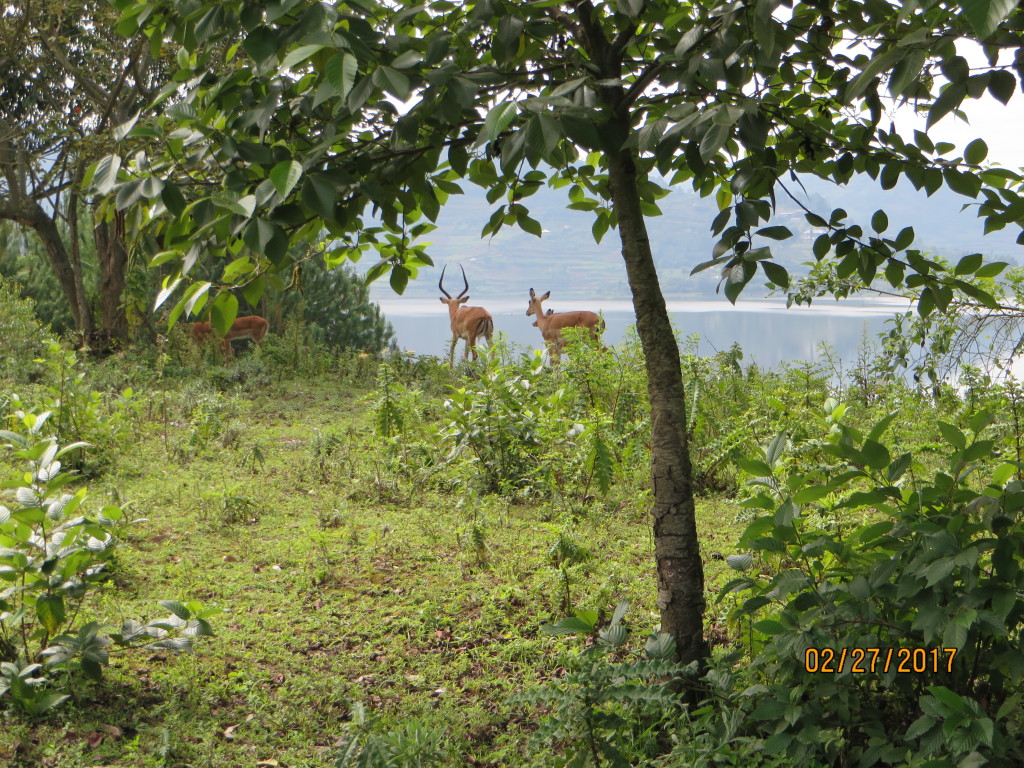 Frank suggested that we spend this time on an island in the middle of Lake Bunyonyi, a volcanic crater lake a short distance from Kabale.
His uncle owns the island and its "eco lodge." He has populated it with some zebras, monkeys, waterbucks (a kind of antelope), impalas, hares, and domestic donkeys that were once used to haul building material up the hill to where the lodge was built.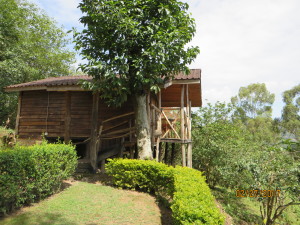 Donell and I thoroughly enjoyed our rest day, which included personal visits to Donell from the donkeys and the monkeys.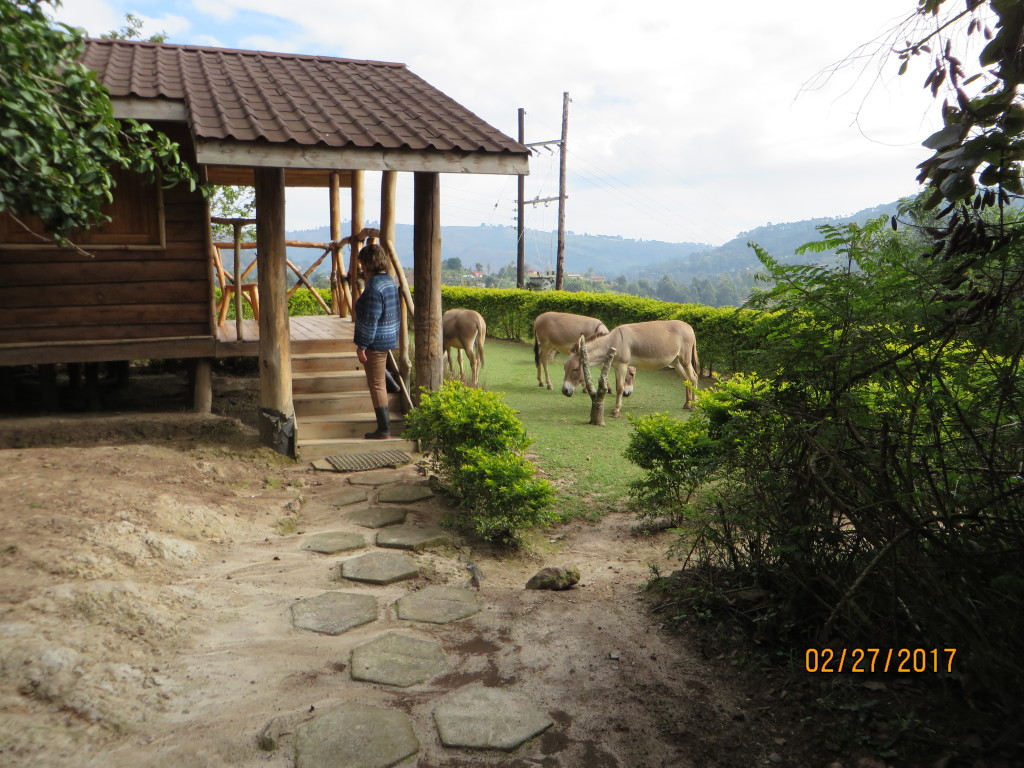 We took the boat bright and early the next day to start our program for the senior staff of the Anglican Diocese of Kigezi (the district which contains Kabale). This program was originally intended to be held last year, but was postponed because Bishop George Bagamuhunda wanted to attend personally, but had been called away.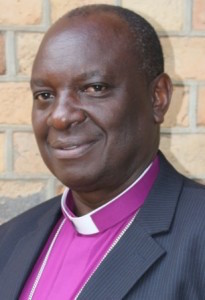 And it happened again this year! However, Bishop George was there to greet us at the opening of the seminar, and made some very encouraging remarks. Although last year was Kigezi Diocese's "Year of the family," this year is the "Year of the Family" for both the Anglican Archdiocese of Uganda and for Uganda as a whole.
Bishop George offered the following remarks at the beginning of the program:
"We have the pleasure of welcoming Dr. Carrie and Team for coming to the Diocese of Kigezi to facilitate the Empower Ministries Retreat, meeting the Church Senior Staff and their Spouses.
"We thank you very much for your financial support that has made it possible to take place. We believe that at the end of the Course, we shall have benefited immensely.
"The Senior Staff and Spouses are an integral part of the Diocese and when empowered, they will go back to their areas of jurisdiction and build capacity of other Church Leaders and congregations. In Uganda today, there is evident conditions which require us, as Church Ministers to make Christians at all ages powerful witnesses in their day-to-day lives.
"Today, the family is under attack. There are various unusual occurrences in the family that are bringing about discord. They include domestic violence, separation and divorce, single parents, alcoholism, witchcraft, drug abuse among adolescents and therefore, our intervention at this point is very paramount.
This Year is very important for both the Church of Uganda and the Government of Uganda since it has been declared as the Year of the Family, and therefore, your coming is very timely.
"As for the Diocese, we are going to the Theme from Joshua 24:15, 'But as for me and my family, we will serve the Lord.'
"Special appeal to the Participants is that we should not take this Workshop for granted; it is enlightenment that as we leave here, we make deliberate efforts to empower Clergy and Spouses. Lay Ministers and other Lay Leaders of the Church who will also replicate this message to family members: Youth and Children's Church.
"Please, make programmes for intensive premarital counseling since it is now taking a bad trend of easy life in marriage leading to uncalled for marriage breakdowns. We can't have a society where children grow without parents' responsibility in parenthood.
"We are also required to enter into our Schools to build Christian values in all Stakeholders – Teachers and learners. Inculcate in them discipline with due diligence in Christian values and hard work to produce a nation that serves God and humanity to the glory of God."
The diocese intends to roll New Man, New Woman down to the congregational level. Rev. Canon Gideon Kwizera, who hosted the seminar, is in charge of further implementation of the program following our training of top level staff participants – archdeacons and their wives, Mother's Union leaders, and senior staff in the diocese. We had a lot of participants – 48 all told, I believe – and were grateful for the especially nice facility.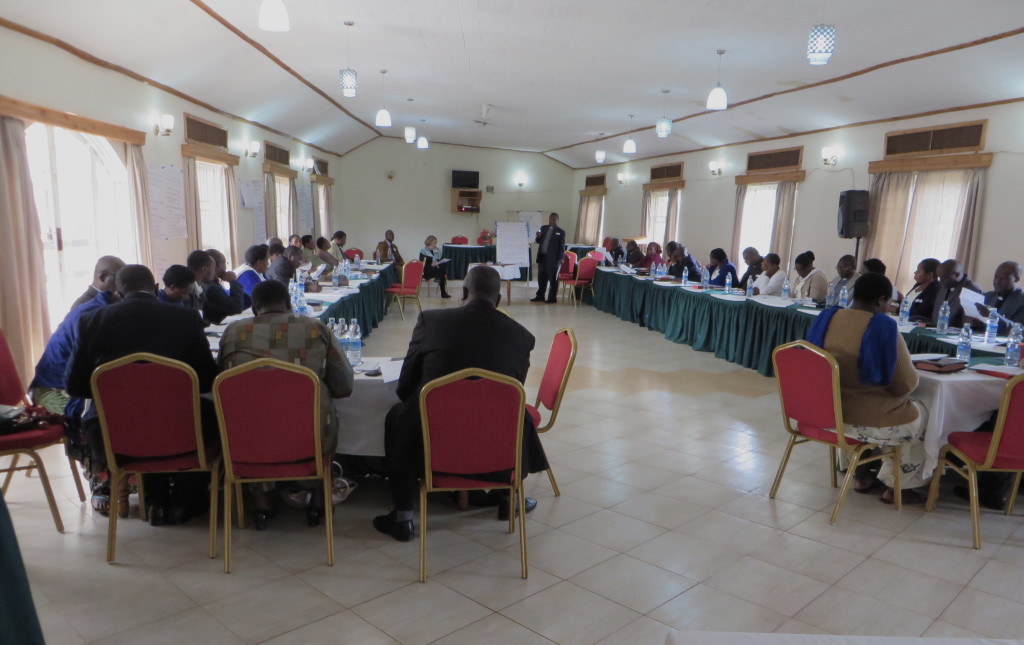 But, unfortunately, the archbishop had called Bishop George to Kampala. Frank had the brilliant idea, however, of asking the bishop to briefly delay his departure so that I could give a short version of the family change talk before he left. The bishop was very, very enthusiastic, and obviously so, which set the tone for general acceptance and interest among the seminar.
We were delighted to have long-time partners Rev. Canon Jovahn Turyamureeba and Rev. Canon Grace join us in facilitation.
With so many preachers in attendance, we had some great report-outs and a terrific, engaging and enjoyable seminar.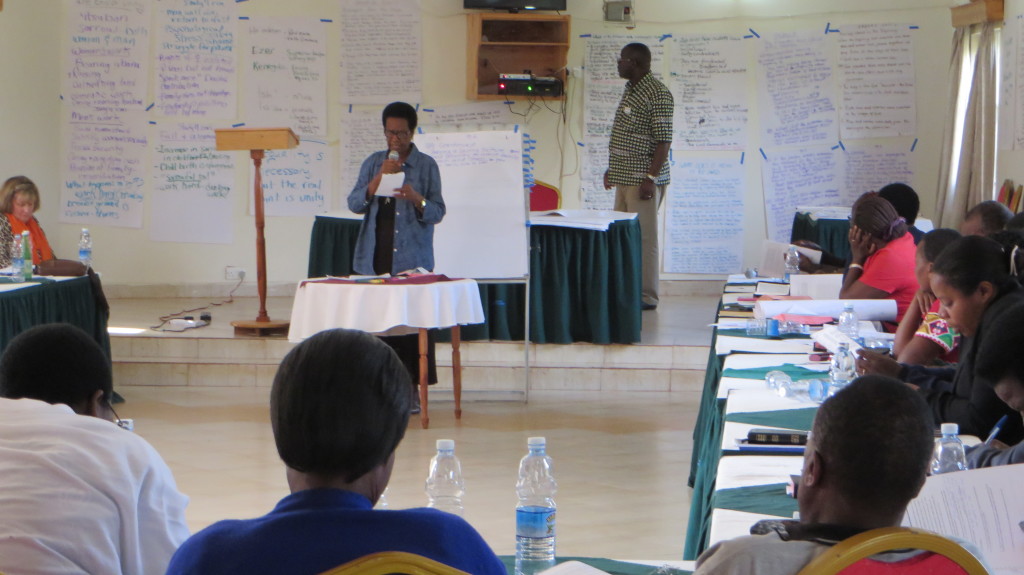 But of course, when you are teaching gender equality in an extremely patriarchal culture, there are always some people who are doubtful (especially high-level people who have been "sent" to the training by their bishops.) One such man held out until the bitter end. In summing up the program, however, Carrie recounted an experience at Mekane Yesus Seminary in Addis Ababa.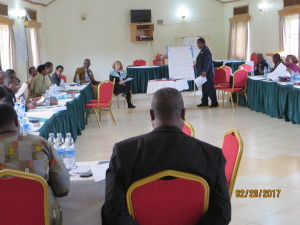 As she summarized Empower's teachings on Genesis 1 and 2, a theologian there said, "Oh, I get it. Equality is necessary, but the real point is unity."
Indeed. Equality is necessary, but the real point is unity. To our delight, this statement won over all doubters.