This is the final installment in a series of reports on our recent trip to Rwanda, Uganda, and Kenya. Dr. Carrie Miles and Donell Peck traveled, accompanied at times by Frank Tweheyo.   
By Dr. Carrie Miles
Leaving behind the magical Malakai Eco Lodge (and the less-than enchanting frogs), Frank, Donell, and I flew from Uganda to Nairobi, Kenya for the last segment of our journey. We greatly enjoyed the beautiful new arrival terminal in Nairobi.
We returned to Kenya to conduct our advanced training at St. Paul's University, in Limuru, coordinated by the wonderful Professor Zablon Bundi Mutongo and his program assistant, Joshua Kuria Gitau. Our initial training plants seeds, and these advanced training seminars continue to nurture growth, enabling participants to go out and teach the material to others. The participants here had attended the New Man, New Woman last year either here at St. Paul's or in Bondo. They are an extraordinary group of people and we had a wonderful time with them.
Prof. Zablon was called to attend another training at the university, but was able to be with us to debrief an assignment given to the participants: How have you used the NMNW training? Here are some of their answers: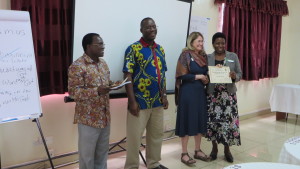 The material challenges the Kenyan expectation that the man will be the head of the family. (Note: Ephesians 5 calls the husband the head of the wife, not the family.) We work toward a biblical understanding of "head." This was not easy at first. Men could not let go of the idea of "head" as being entitled. (Click here to read a summary of our teaching on the meaning of head in Scripture.) Even the women could not accept it. But we are coming to understand it.
A group at St. Paul's started the "Kenya Family Initiative."

Our master class includes lots of group discussion.

Mama Bishop Elizabeth (wife of Bishop Angela in Bondo, Kenya, and president of the Mothers' Union there): We are using this to teach about marriage, and that no one partner is above the other. It is working well. They did not have feedback yet from the couples but they can see that they are making progress.
Mary:  This program has helped those who think that every family must have children. We teach them that children are a blessing (not a requirement). The change is accepted and we see childless couples returning to church.
Marube: The program is important in combating family violence. Men want to feel respected and resort to violence to get that respect. With this program, they learn agape love instead, and to bring their wives without blemish. This changes them. The men accept it gladly. Marube noted that the new generation is understanding things differently than their elders.

Participants discuss what they are learning in study groups of men & women.

Joshua was recently married after he took the seminar last February. He went into marriage with these new concepts. This really has enriched his relationship with his wife. He was recently asked to speak at a wedding, and used the material from Ephesians 5, especially that female subordination is not God's perfect will. There was a good reception. "You could see people's faces lighting up," he said. Joshua saw the groom later, who said he keeps thinking about this. The younger people are picking this up and being transformed. It is hard for older people, who are already used to the wife taking care of the husband. Joshua makes a point of working together with his wife, who also is employed full-time. This has made it easy to start out a marriage. When Joshua shared what he had learned at the seminar with his fiancée, she replied, "Really? You are not going to be like these other men?"
Mary Atieno: A man told her, "It is not easy to share with your wife if she does not want sex." Mary replied, "We learned that woman is not made just for men's sexual use." (Note: The way people apply the biblical teachings open up new ways of seeing is a constant surprise to me. Marital sex is a HUGE issue in Africa – and in a slightly different way, in the US as well – where men believe they are entitled to sex whenever they want it, and without much grace or compassion for their wives. As Pastor Frank says, men feel entitled to "jump on their wives like a goat.") There is a lot of domestic violence over sex. She also said that men are not used to listening to women. This is what she struggles with.
Margaret: Women are viewed as a lower creature who should be silent. She was learning to see things differently, to realize that her culture's interpretation was not aligned with scripture.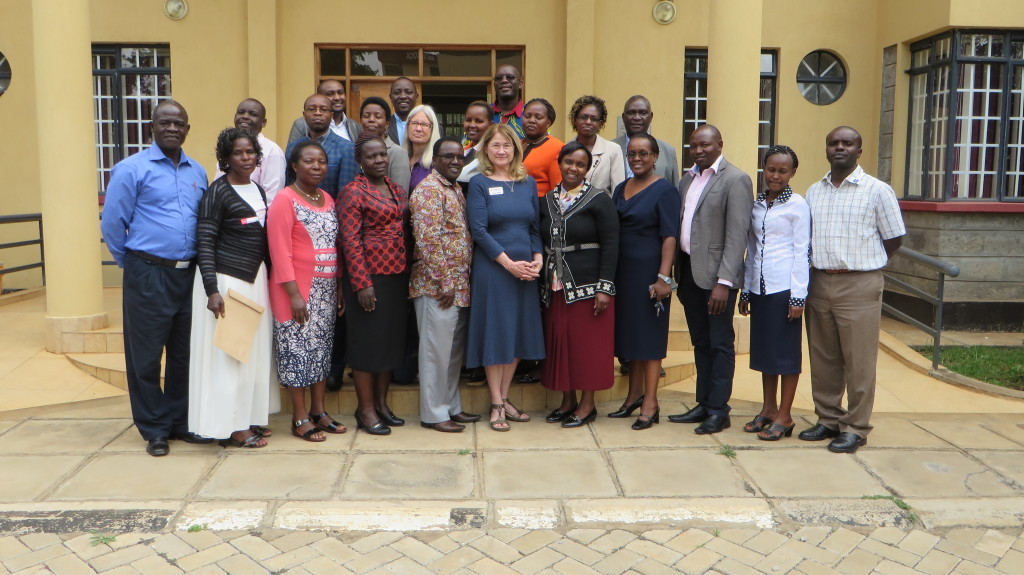 Reaching the next generation
The younger generation does not see the world the same way their parents and grandparents do. This theme kept coming up during our discussions in Kenya.
Teenagers are struggling with the traditional idea that woman are supposed to be submissive. Today, they see themselves as equal. The program went very well with them. Empower needs material focused especially on teens.
One woman said that her husband told their son not to obey her. By her husband's reasoning, their (young teenage) son is a man: She should obey him. We need to reach teens, and bring them up knowing that they should respect their sisters.
Another woman added that she was trying to apply the training materials at home, but it was not easy, especially for men. She said her young adult sons' resist the ideas of equality and mutuality, saying: "As a man, I am not supposed to do this work. This is the work of a mother or sister. My father is not doing this." She has seen some changes, but they are slow in coming.
Professor Zablon said that, as a boy, if he went into the kitchen, his mother would beat him with a cooking stick. "You are becoming a woman," she'd say to any man (or boy) who came into the kitchen. The household help is very protective of the kitchen, telling men that they do not belong there.
Zablon is trying to apply what he's learned in the seminar to his home. But traditional roles are well entrenched. He has three teenage sons. His wife, instead of speaking to her sons directly, will ask Zablon to tell them what to do. He does not want to take her authority away from her—but he has to work to break the pattern that she is used to. When she tells them something, he then endorses it. They know that their parents are equal. He also does not let his sons go through their mother to get something out of their family. This is a way to bring balance, but it is not easy.
Professor Zablon also noted that he applies NMNW to bringing up his daughter to grow in self-esteem. He tries to attend all the meetings at her school. Usually only the mothers go. Sometimes even his wife is surprised. He strives to give women their worth and identity.
With the young men in his house, he asks them to discuss issues. "What do you think?" He tries to them self-worth, identity, and a place in family decision making.
He noted that some young people steal to please their families.
Prison Ministry
One of the participants has taken what he learned in our training, and applied it to a prison ministry. Joseph is teaching a program called "Man Enough" in prisons. He is using NMNW concepts to help integrate men back into their families.
Families are not easy with these men. Former prisoners have problems with self-concept. The program helps a man change to rejoin his wife, and to change their relationship for the better.
Donell noted that being in prison breaks a man's spirit. They need a solid conception of themselves. If they have good self-esteem they will not be lead astray or try to push others down in order to feel better. "You are breaking this cycle," she told Joseph.
Summing it up
As part of the advance training, we ask for volunteers to practice what we call, "The overview sermon." This is the summary of the program that we use to introduce the seminar or as a sermon. It is always interesting to hear the presenters' personal takes on the material. Here are a few comments the presenters made that I thought were nice interpretations:
Margaret: "Due to the fall, man was banished from the Garden. The relationship with God, natural creation, and with each other was broken."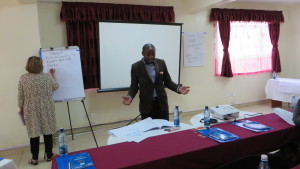 Joshua: "We have to suppress our natural ethnocentrism so that we can understand the Bible." He said that in Genesis 3, Adam was presented with a "change to do his own things rather than God's will – and he fell for it….By the time Jesus is coming in, the situation is really bad. Women had been so downgraded that they only saw themselves as giving birth. That is not enough in terms of identity." (Note: I am going to have that engraved on the covers of the study guide.)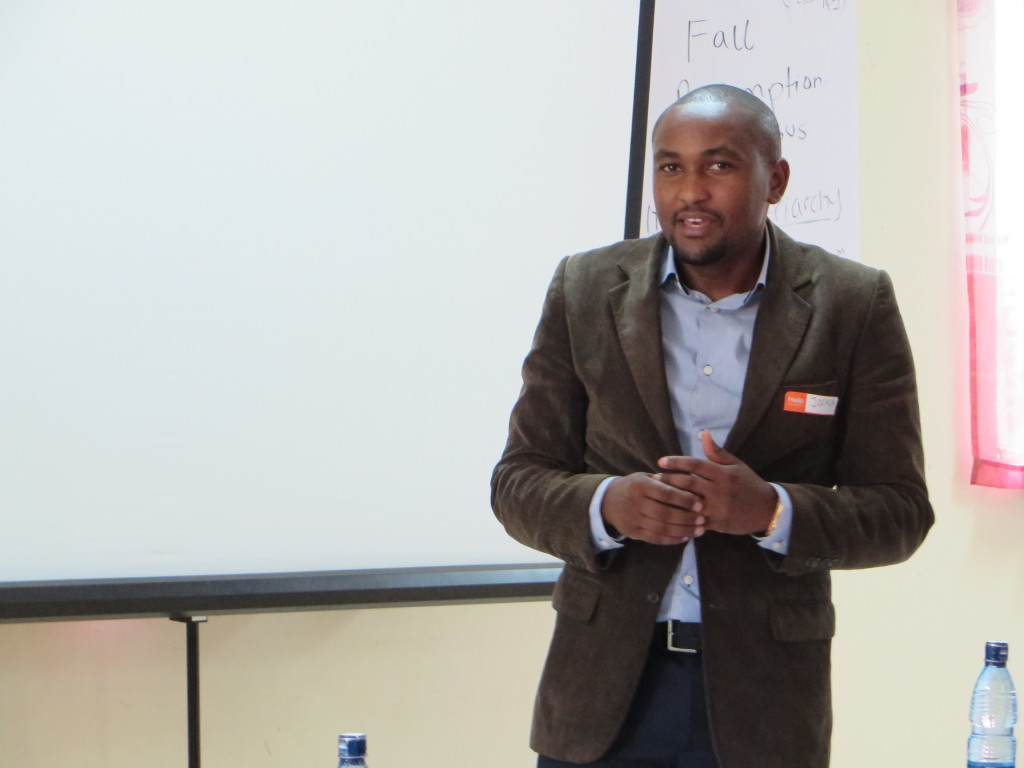 A special visitor
We were greatly honored to have Dr. Karen Torjesen visit on the last day. Dr. Torjesen is the author of When Women were Priests, and the founding dean of the School of Religion at Claremont Graduate University. I was also able to introduce her as a newlywed, which charmed the group. She and her new husband, Steve, live in Nairobi, where he works with unlicensed schools in the (extremely dangerous) Kibera slum, and Karen is a visiting professor at Kenyatta University. Karen favored us with a compelling and empowering talk about women in early Christianity.
Donell was suffering from a pinched nerve the last two days of the advanced training and so Frank presented the material she has developed on sexuality. He added a group discussion in the beginning that was very engaging. I mentioned earlier his comment that men "jump on women like goats"- probably something that we American women would not dare say. He also talked about FGM (female genital mutilation), and said that the reason given for this practice is that men do not want their women to "go out" (outside of the marriage for sex), so they remove the "organ of sexual satisfaction."
He ended by asking, "What did God intend?" with "We need to understand who we are." That understanding is indeed the essence of Empower's purpose.
Presbyterian University
Our last day in Kenya, our colleague, Dr. Colette Cozean, arranged for me (Carrie) to speak at Presbyterian University in Kikuyu. Two gentlemen came to pick me up to take me to the university, where we met with Dr. Dorcas Chebet, a professor of theology there. I spoke to a small but very enthusiastic group. Dr. Chebet is ready to put our program into the curriculum, and extended an open invitation to come back for a month to teach an intensive course.
Significantly, it is my talk on family change that has generated much of the last few years' interest in New Man, New Woman, New Life. I have been teaching this material since I first started working in Africa in 2005, but in the last few years, people have gotten really excited by it. The family collapse became apparent in the West since about 1960s has now become very visible in developing countries. Our challenge is to help translate Jesus' teachings, which were very counter-cultural in pre-Industrial societies, to our contemporary, post-Industrial world.
This need is why I found so profound both Frank's pronouncement, "We need to understand who we are," and Joshua's, gender roles are "not enough in terms of identity."